Each week, the Hello Social Co. team gets together virtually to discuss changes in social media, things we've learned through testing, and more.
Here's what you should know this week:
Content Curation
Struggling with coming up with original content for your social media posts? Good news! Social Media Today released a way to energize your social media presence with their 10-4-1 rule. That is, 10 pieces of shared content, 4 pieces of original content and 1 piece that directs to a landing page. Meaning, if you follow our rule of posting about 5 times per week, two weeks of content is sharing User Generated Content! How easy is that?
Pinned Comments on Instagram
Instagram rolled out a new feature to all users so they can pin a few (positive) comments to the top of their feed post to better manage the conversation.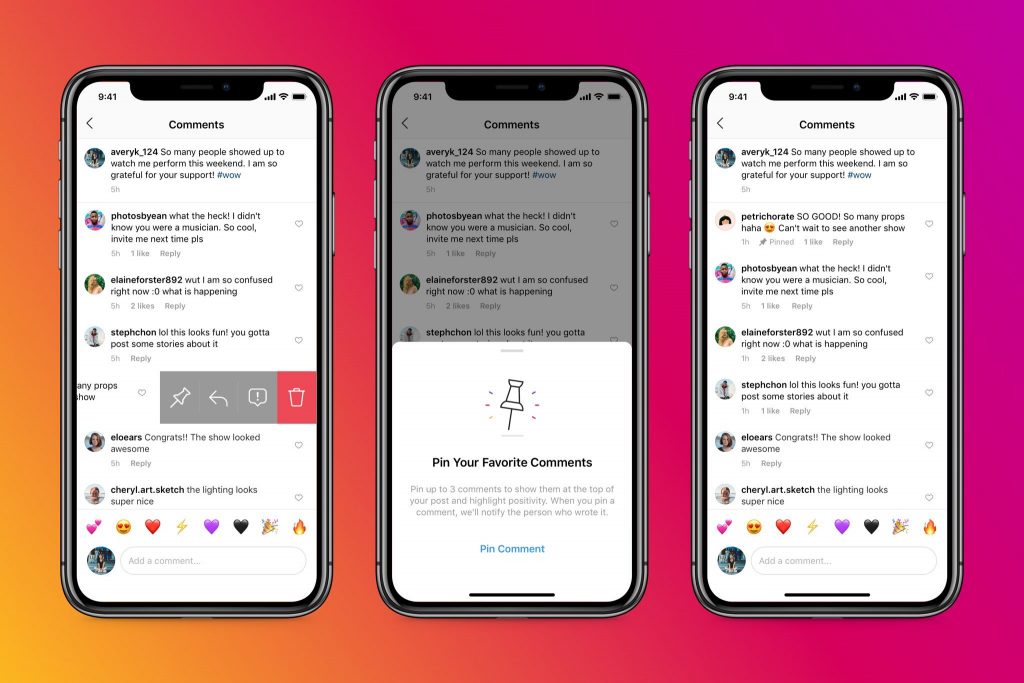 📷: @instagram
Insight on Reaching Gen Z
If you want to reach Gen Z, you've got to be online because social media isn't just a way to connect, they're living their lives online. Of those surveyed by Adweek, 58% said they're uncomfortable going more than four hours without the internet. 
They take a stance on things they care about and want you to, too. 72% of respondents said they believe they can take part in social issues and be a part of a social movement by engaging solely online and the same percentage want brands to take a stance on things they care about, too and are ultimately more likely to buy from those brands that contribute to social causes.
Unlike Millenials who are willing to spend more on convenience and labels, Gen Z has seen the debt accrued by so many Millennials due to college loans that they're already proving to be thriftier and this trend may only continue as COVID-19 has become that generation's "defining point" and witnessing the loss of their parents' jobs and the economy tank. Also due to COVID-19, everything is online, but after all Gen Z was already comfortable being there.
Facebook Ad Slump
Make sure you're getting the most out of your Facebook ads with these six tips:
Don't run the same ad all the time.

You know that TV commercial you see all. the. time. And have to change the channel whenever it comes on? Same basic principle.
Switch up your audience.

Are you constantly choosing to target the same age, location and behaviors? They've already seen your messages! Make sure to remember to target new groups who

haven't

been exposed to your messaging yet.
Use different ad types.

If you find yourself constantly setting the ad type to promote your website, try out some of the other features Facebook Ads offers like promoting your page, generating leads and more.
Customize your IGTV look
IGTV has made some updates and creators are now able to choose how they want their IGTV content to appear in the Discover section of Instagram. Choosing an appropriate "first look" is important on whether or not your content draws viewers in.
Trial and error
Last week, the HSC team learned some valuable information when it comes to going live on Facebook Live specifically in an Events page. Only the host of the event can go live in the event. Want to learn more about the benefits of using live video on Facebook, check out our previous blog post about it here.
About the Author: