This week, the team focused on in-app functions and new-and-noteworthy updates that are coming to the social media platforms we use daily. Here's what we learned:
Facebook making it even easier to shop
In addition to Facebook Shops, Facebook is making the move to enable shopping directly via Facebook Messenger, Instagram DMs and WhatsApp. Would you take advantage of this streamlined buying process?
Just a reminder!
If you're ready to start scheduling your content out ahead of time (we highly recommend it and suggest having two weeks of content scheduled at any given time) but aren't ready to commit to a third-party scheduling tool, don't forget about Creator Studio! This built in scheduling tool through Facebook allows you to compose and schedule posts to share to your Facebook and linked Instagram page!
Twitter testing new functions
During the pandemic, Twitter's user base has grown but ad revenue fell flat prompting Twitter to consider Subscriptions. Twitter said it's "exploring additional potential revenue product opportunities," potentially including "subscriptions and other approaches." and hinted at a possible subscription service that let users access news publishers through the site. But don't expect it to be a viable source of revenue this year, they're still trying to work out the logistics.
Additionally, it appears Twitter is taking a page out of the Instagram Story playbook and is looking to enable "fleets" or their own version of stories; tweets that will only be available to view for 24 hours.
More info on Facebook Venue
Several weeks ago, we talked about a new app Facebook is launching and initially partnered with NASCAR to kick it off. Now, Facebook's NPE (New Product Experimentation) Team is hitting the links with their new Venue app with the PGA Tour. The app will allow viewers to interact with other fans and commenters during live events. 
Personal fundraisers available through social
Until recently, only non-profit accounts had the ability to use the fundraising feature through Facebook and Instagram; however, personal fundraisers, similar to GoFundMe, will be available for any account not just non-profits. 
Instagram's DM sticker
Have you given the DM sticker a go in your Instagram stories? Or have seen it but are unsure how to incorporate it into your messaging? Later has compiled five different ways that you can use the sticker to your advantage. Read about them here.
Dates to consider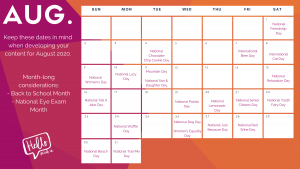 About the Author
Amanda Williams is a social media manager at Hello Social Co. When not developing content, she likes to Focus on Local in her hometown of Frederick, MD.