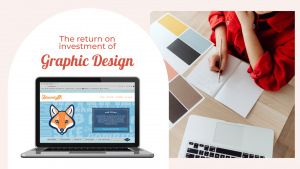 Let's start out with a cold hard fact: Good graphic design is a non-negotiable when it comes to your business or brand. You can try to work around it, but at the end of the day the way your brand looks online is often the first impression your customers will get. 
I'll share a quick, personal example with you: when I was searching for wedding planners, the first thing I did was investigate their social media accounts. From there, I let their website be the deciding factor of their professionalism. Of course, I ended up choosing the wedding planner that had a beautiful social media aesthetic of photos from events she had planned and a well-organized and thoughtfully designed website. Were there other wedding planners in the area with equal, if not more experience? I'm not sure – their websites didn't give me that impression. 
While my own experience may be convincing enough to invest in professional graphic design (especially for event planners) I interviewed local graphic designer Troy Weston of 3twenty9 Design about the return on investment of hiring a professional. 
3twenty9 is a design firm located in Bellefonte, PA (hi, neighbors!). They service businesses nation-wide, but are well known in the local area for specializing in professional website design and branding.  Not to mention, they are also the designers of the website you're currently on and the masterminds behind some of our client websites!
What you get when you hire a graphic designer
When you hire graphic designers like 3twenty9, you receive more than a standardized website layout and logo. You hire someone who is dedicated to bringing the vision you have of your business or brand to life in the digital world. 
"Really, you're hiring someone to create the vision you want to create, but just don't have the skills to execute." shared Troy. "Hiring a graphic designer brings a lot of feelings into the game. Sometimes people are really close to the project and can't step away from it. Hiring someone from the outside gives them a different perspective and allows them to expand their vision. We break down those walls they're stuck on and help them through to give them a final product." 
Even more than bringing your vision to life, professional graphic design will bring more customers and clients through your door. People want to trust that they are investing their time and money into the best of the best. Having a clean and consistent look throughout the entire customer experience reassures them that they are making the best choice.
"If you keep the mission and vision [of your business] in your collateral across the board, then you'll have a better impact. People are very visual and they will recognize your business's branding. If we give [our clients] a style sheet to go off of… then they are going to be better off moving forward without us than they would be on their own. Creating that strong vision for [a client] and that strong artwork is going to catch attention." 
Where to start
So, how do you begin thinking of that vision for your business or brand? One mistake many people make when they hire a graphic designer is not doing their research. Troy shared his tip for getting started with the design process on your end: 
"Gather up ideas of things you've seen in the past that you like. Maybe you like a certain aspect of a website – the theme, the logo, a certain page – and create a vision or even a word to describe it for your designer. That is going to help them create the ultimate vision you're going for."
Going into the design process without an idea of what you're looking for is setting both people up for failure – just as we say diving into social media marketing without a plan is a plan to fail. You need to know the mission of your business or brand and the vision of it you want the public to see. We know that not everyone can afford to invest in an entire brand overhaul, so where should you start if you have a smaller budget? Troy was quick to answer:
"The brand. If they set their look and feel, then there are ways you can go about pushing that forward without spending a lot of money," answered Troy. "Keep that consistent when you start advertising for yourself." 
Consistency is key
At Hello Social Co., we always say consistency is key. For social media marketing, that can mean a lot of things, but branding is definitely part of that. As Troy mentioned before, having a consistent brand online makes you instantly more recognizable to your audience. When you post to social media, you want your followers to know immediately that it's you showing up in their feed. Inconsistent branding will lead to confusion and, ultimately, frustration for your followers.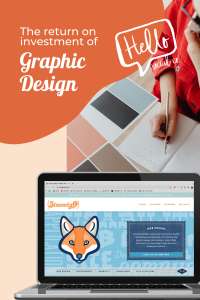 Furthermore, you want that consistent branding to continue over to your website, so your customers are able to experience your entire vision. As I shared in my quest to find a wedding planner, I was confused when I found a beautiful feed that led to a poorly constructed website. Not only does it look unprofessional, but it can lead your audience to believe that the surface level of your branding is all that matters and not the business you are running.
Finally, I asked Troy if he had any final advice to share for those getting started with their graphic design journey:
"Talk to a lot of people. If you're trying to do it on your own, have the conversation with your designer or social media manager and see what's in your budget and what you can afford. Look for any sort of teachable moment that allows you to move forward on your own and then hire them later on in the process." 
At the end of the day, professional graphic design can be pricey, but investing is not only a benefit to the look of your business or brand, but a benefit to the long-term success of it.