Whether you are running your social media presence, have a team member managing the accounts, or outsourcing your needs to an agency like Hello Social Co., it's important that you have ownership and complete control of the profiles set up for your business—but that doesn't mean you shouldn't share access.
Sometimes when a Business Page is created through a personal Facebook profile, the person who created the Page becomes the one and only Admin. Granting access to administrative controls to multiple users has its benefits.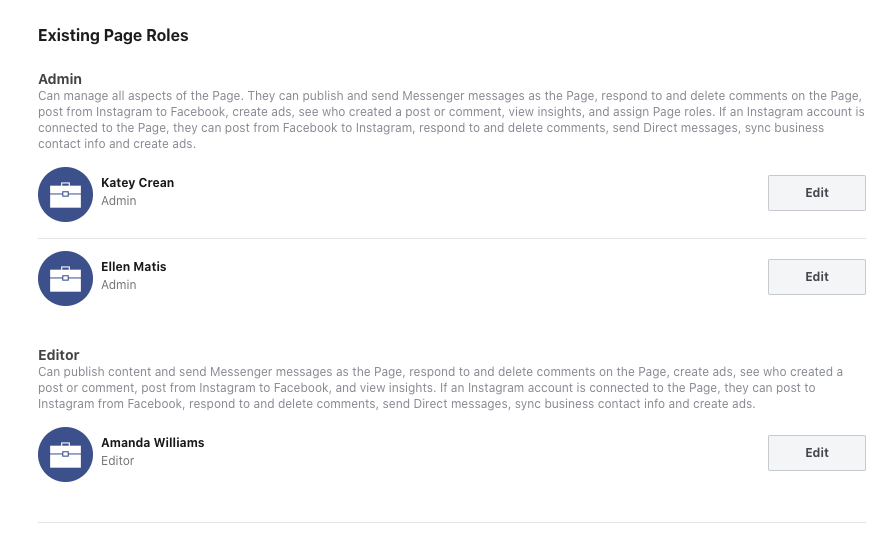 Shared responsibility
By adding Page Roles everyone who collaborates on your Page can have a different role that corresponds with their job, while you maintain control over just how much freedom they have to act on behalf of your business. You will delegate tasks, have a back up if you're ever locked out, and even take a sick day or vacation. This is essential for any business. It's great to have assistance when it comes to marketing your business on social, just be sure you don't let too many cooks into the kitchen.
Pro tip: We think the sweet spot for number of admins on a Page is three.
Page protection
Possibly the biggest point of them all: If a Facebook Page only has one Admin and that person leaves your business or deletes their personal profile, that Page could be lost to your business or organization. That's right—taking all the posts, and engagement the Page has gathered.
Any Admin of a Facebook Page can add another Admin as long as the prospective moderator has a Facebook account. You can add them by their name, or, if you aren't personally Facebook friends with, by their customized URL or email address associated with their account. Learn more about assigning Page Roles and the different types on Facebook.
It's also important to note that the accounts attached as Admins to your Page should be real humans and not fake profiles made for the sake of having the page. This is against the Community Standards. Facebook stays on top of spotting fake profiles and is actively shutting down the ones they find.
Changing Page Roles
To change or add users on your business or organization's Facebook Page, go to the Page > Page Settings > Page Roles.
About the Author:
Katey Crean is a Social Media Specialist at Hello Social Co. When she's not crafting social media content for clients, she can be found teaching kiddos musical theater.