Building a successful social media presence, whether you're a small business owner, you work for a larger corporation or even if you're managing social for a non-profit, is not an easy task. Showing up consistently on social media takes time and effort — and since you're someone that wears many hats for your brand, that's hard.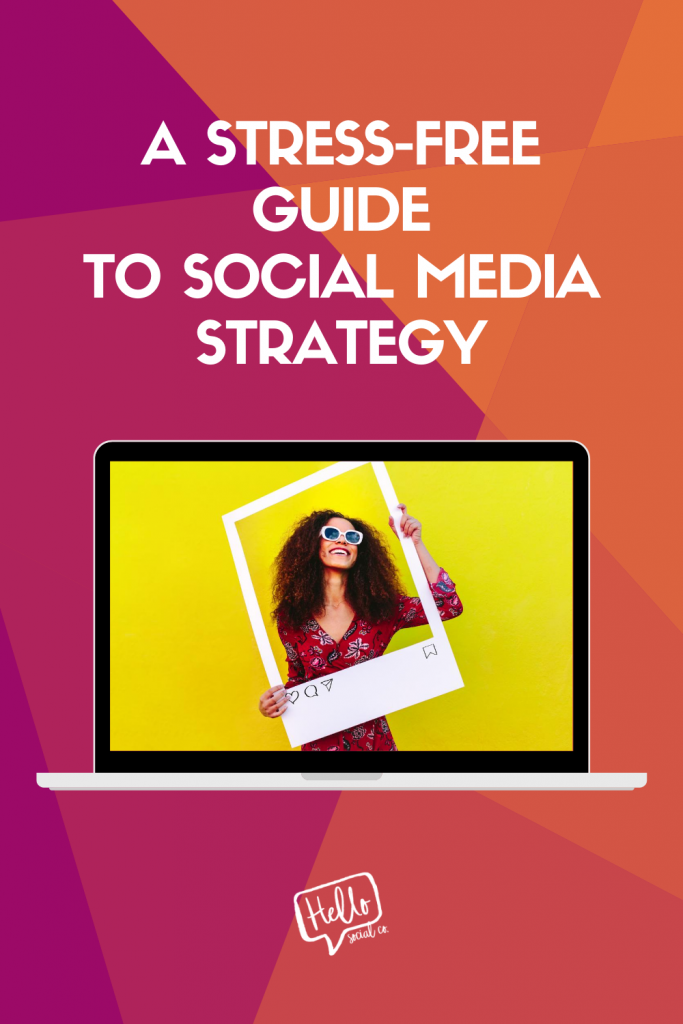 Not being able to show up regularly on social media is one of the biggest struggles we hear from our Social Media Strategy clients. We hear:
I don't have time.
I don't know where to start.
I don't know what to post.
I can't be creative.
Did I mention I don't have time?
I totally hear you. I've been there as a business owner, too. But when you show up and do the work to grow your social media presence, magic can happen:
You can grow your following and the overall awareness of your brand.
You can connect with more users on social in a way that doesn't make you feel icky.
You can increase traffic to your website, get more customers in your door, or reach any of the other goals you've set for your business.
How a Strategy helps
By creating a Social Media Strategy for your business or organization, you're no longer just wingin' it. You'll use the Strategy to guide you forward and finally stop stressing about social media.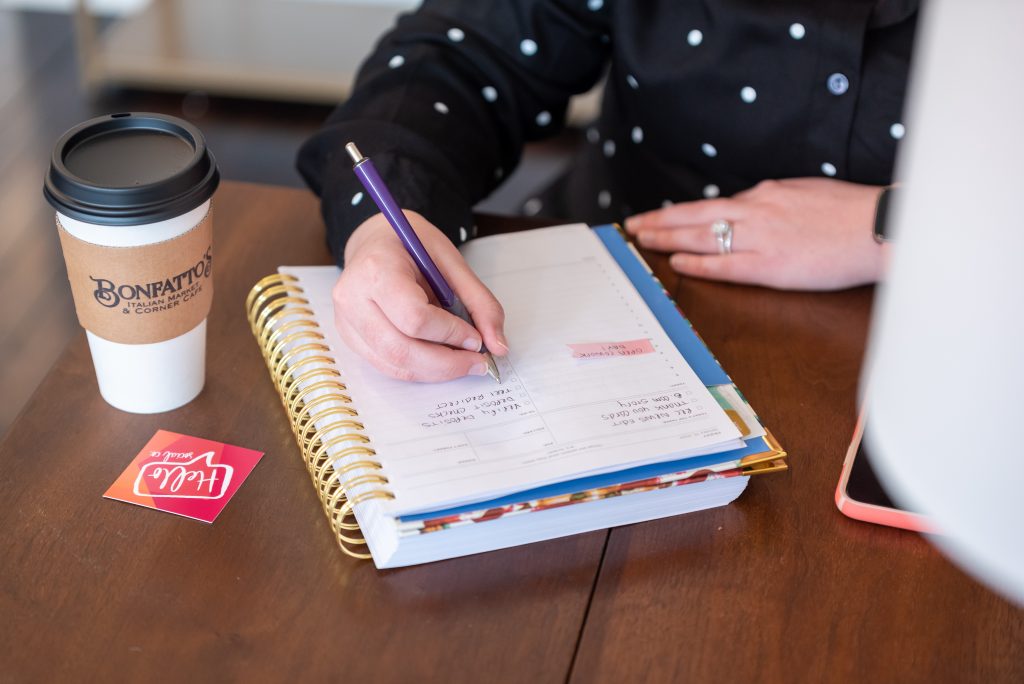 Strategy Step One: Figure Out the Who, What, When and How
Before you can even think about creating content for your social media profiles, it's important to figure out who you're trying to reach, what types of content you'll be creating, how much you'll be posting, and on what networks.
1. Define your audience
Who is your ideal client or customer? Figure out who they are, where they hang out, how they spend their money, what they're struggling with and how you can help.
When it's time to write content, come back to these personas to help humanize your copy.
2. Know Where to Post
Now that you know who your ideal social media audience is, you can determine what networks to be using for your business or organization. At Hello Social Co., we always recommend sticking with 2 to 3 networks and really nailing your strategy, rather than trying to be everywhere.
3. Determine How Much to Post
Unpopular opinion: At Hello Social Co., we don't believe that you should conform to any set number of posts per week that will magically help your accounts grow. We recommend determining how much time per week you have to spend creating content, and then going from there. A good baseline, however, is 5 posts per week per platform + one Instagram Story weekly, if you're using that platform.
Step Two: Create Content Pillars
Our favorite aspect of creating a Social Media Strategy is determining Content Pillars. Content Pillars are categories that help you know what types of content you need to post and when. For example, here at Hello Social Co., we use the following Pillars:
Education – Posts that provide value to our audience
Focus on Local – What we call posts that connect us to our local community. This is where we show off beautiful architecture, what we're volunteering for, and more. 
Behind the Scenes – Showing off our processes and procedures for social media success … and sometimes even the process of laying on the couch and binge-watching Netflix. 
Meet the Team – Where we show off the faces that make the magic happen at Hello Social Co.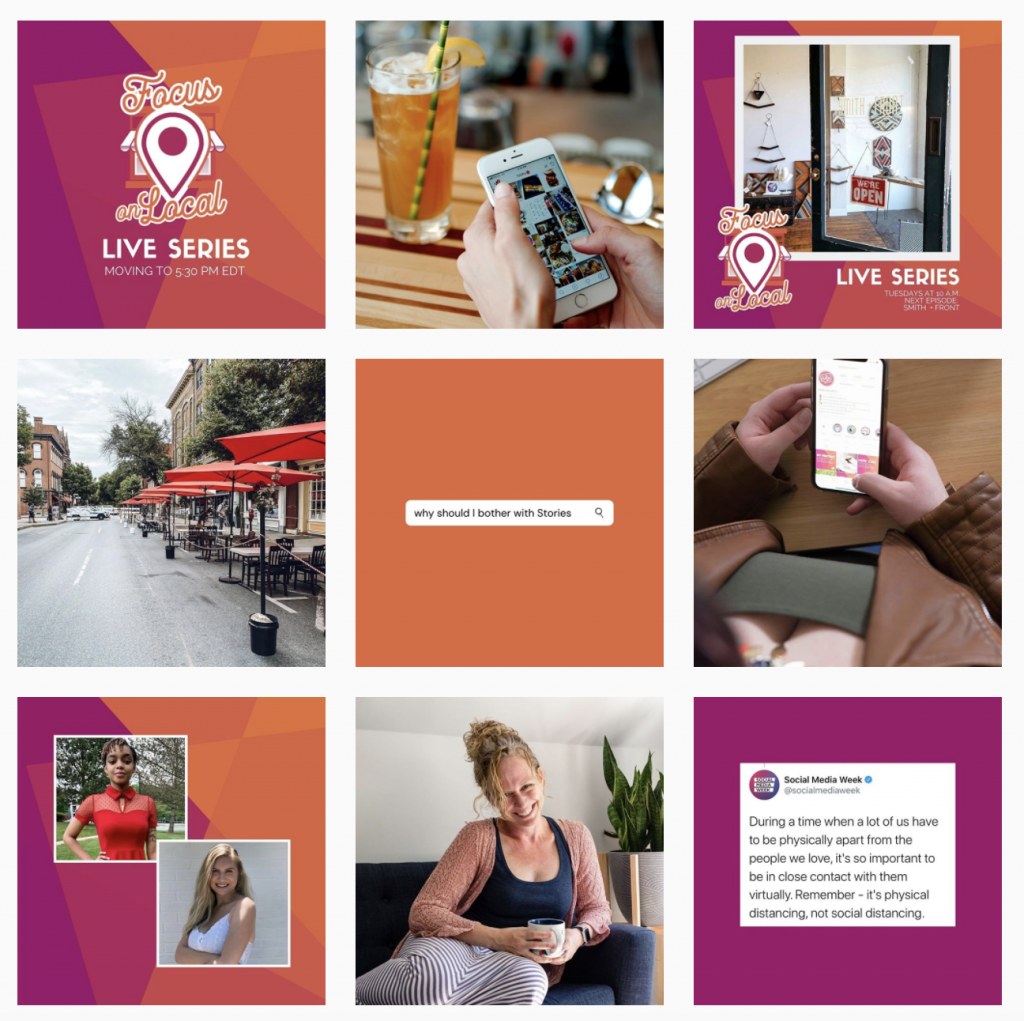 Since we know that we need to hit these four pillars weekly, we can determine that we need to post a minimum of 4 times per week. However, since one of our main goals as a business is to provide more value to our social media audience, our breakdown looks more like this:
Education – Two posts per week
Focus on Local – One post per week
Behind the Scenes – Two posts per week
Meet the Team – One post per week
For a total of six posts per week on each social media platform.
Step 3: Break Down Your Schedule
It might be helpful to break down your social media schedule into monthly, weekly and daily tasks.
Monthly
Print off a blank calendar for the month. Use pencil so you can scribble, write ideas and change things! Here's a calendar we created for you — just sign up to receive emails from us to get your download.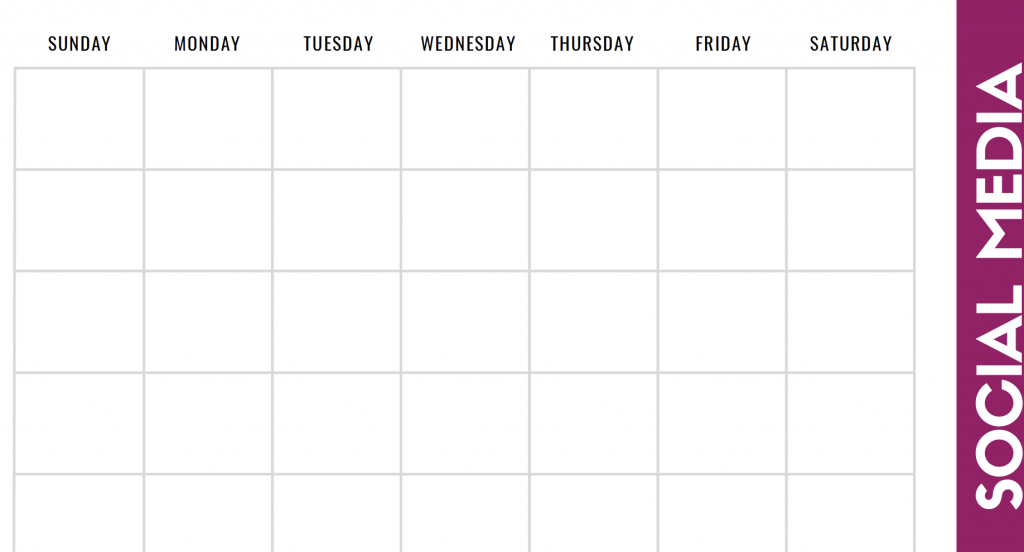 Write down which Content Pillars you need to hit on which days. Start brainstorming content that fits within those Pillars below.
Weekly
Create relevant content based on the Content Pillars you've already outlined for the week, or hand off the reins to a team member that can create it on behalf of your brand. Use a scheduling tool like Tailwind to get all of your posts scheduled for the week at one time.
Daily
Don't just set your social media to schedule on your behalf and then forget about it! On social media, it's important to remember to be social. Take 5 to 10 minutes daily to check and respond to any comments or direct messages you've received, and then comment on a few posts yourself.
Let's Recap
Coming up with a Strategy is the first, yet most difficult step! Once your Strategy is in place, the easier it will be to post consistently on social media and the faster the process goes.
I recommend blocking off one hour every week to plan your social media content using the framework that you've outlined in your Strategy. If you think that seems like a lot of time, just remember: A great social media presence will work for your business and help it grow. Time and effort = profit.
Social media still got you stumped?
Leveraging your brand online is important to your business' growth. Hello Social Co. offers a variety of services that fit different business needs: 
Social Media Management: For brands that are ready to hand off their social media to a professional.
Social Media Strategy: For brands that have a marketing team, but could use social media-specific guidance and training.
Strategy Sessions: One-hour coaching sessions for the business owner that wants to take a more DIY, budget-friendly approach.
About the Author:
Ellen Matis is a community connector and the owner of Hello Social Co. When she's not figuring out how to help small towns grow, she's hiking or camping with her husband and rescue pups.
Tags: guide, how-to, Social Media, social media strategy