As businesses and offices across the nation are forced to close amid the spread of COVID-19, many small business owners are seeking guidance on how to communicate with customers effectively.
Resources have become available across the web that include social media graphics, messaging and more.
Here in Pennsylvania, the Pennsylvania Department of Health has shared a huge number of helpful graphics that are available for all to use for coronavirus communications. See them here. To use one, just right click and save the image that you'd like to post. 
We welcome the sharing of other state's resources in the comments below.
Nationally, the Centers for Disease Control (CDC) have put together a list for specific types of businesses, organizations and other entities with recommended protocol. Communications resources specifically can be found here.
Many organizations have also shared helpful graphics and messaging that detail how you can support small businesses, that are going to be greatly affected by this, during this time.
Here is an example from Marietta Main Street. See the full post for their list of ideas here.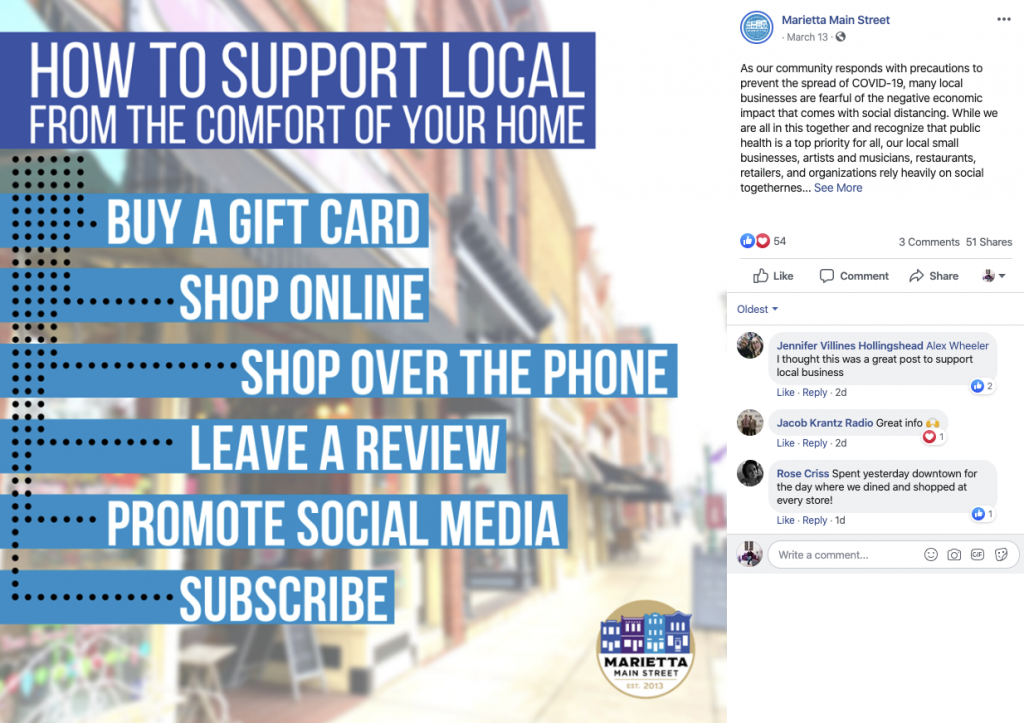 To create your own graphics like this, we recommend using online tool Canva. On it, you'll find many social media templates that can be edited with your own logo, branding colors and more.
Here in Bellefonte, Downtown Bellefonte Inc. is working to provide a list of updated information about how to support small businesses. It's easy to put together a list like this of your own on your blog or website, and can help the businesses around you survive this challenging time.
The Small Business Administration (SBA) released a toolkit offering guidance for businesses and employers to plan and respond to Coronavirus. They also offer the Economic Injury Disaster Loan program that provides small businesses with working capital loans of up to $2 million that can provide vital economic support to small businesses to help overcome the temporary loss of revenue they are experiencing.
COVID-19 social media post ideas:
Staying safe during the outbreak
What your business' action plan is. Are you staying open? Are you making special changes?
Focus on your why: You chose to stay open, or to close. Why? How does it affect your community?
A call-to-action to NOT visit your business for users that are showing signs of illness
Information on how to get tested for COVID-19
What resources have you find helpful? We'll update this list as we become aware of more helpful links and tools.