Service-based businesses report to us most often that they struggle to come up with a plan for tackling their social media. Companies that focus on business-to-business work often aren't selling a product or service outright, and wonder why social media is even valuable to them.
We tackled this issue recently for Social Media Strategy client Rock Spring Contracting.
About the Company
Rock Spring Contracting specializes in demolition, drywall, architectural walls and hauling in the D.C. Metro area, primarily working with general contractors who aren't necessarily taking to social media to find who they want to work with but know that it's an important tool that businesses can use for other aspects of marketing strategy.
The Challenge
The client knew they needed a social media presence, but was unsure of where to start, what platforms they should utilize and what to post and how often they should be posting.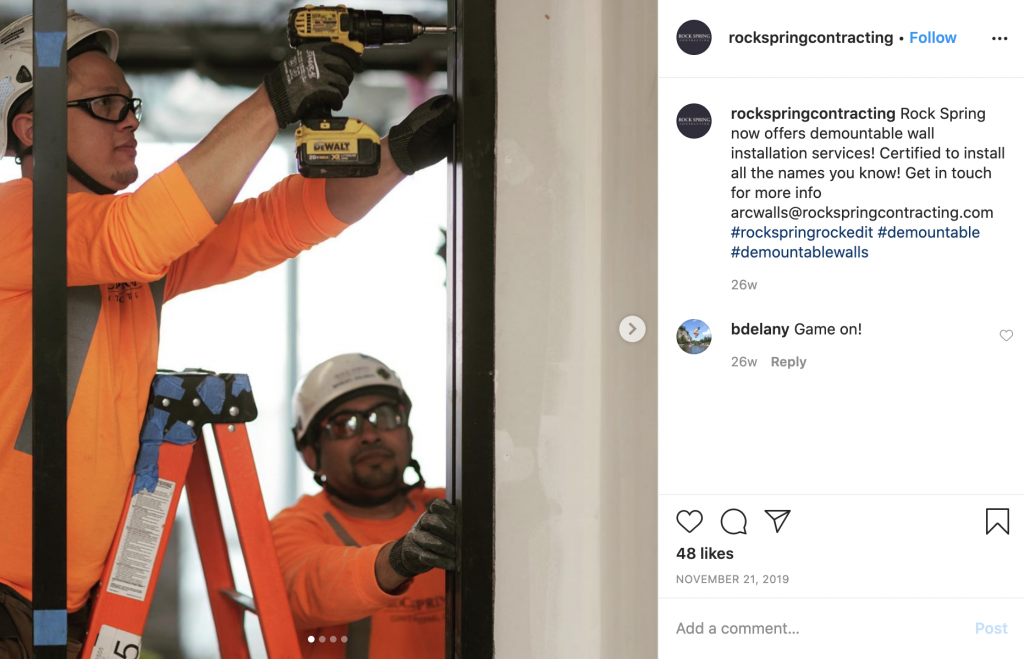 The Solution
Since Rock Spring Contracting isn't looking to gain clients through their use of social media, they weren't sure what they should be posting.
We started by setting the company's goals fo their social media accounts, geared towards promoting the company's office culture, its community engagement and a behind-the-scenes look at projects and the people who work there.
Because of the B2B nature of the company, our team recommended using Instagram and LinkedIn their primary social media marketing channels.
Next, we addressed how often they should be posting. Here we emphasize consistency. We always recommend a minimum of five posts per week  — allowing the client to see on which days their audience is most active and then tailor their posts to reach the most viewers.
For many clients, we recommend blocking out a time where you can create a few weeks worth of content. Using a scheduling tool like Tailwind can help you write and set content plans in advance.
In addition to the five posts crafted by Amanda Williams, the lead social media manager on this account, our team put together a sample social media calendar that included six months' worth of writing prompts: This client won't run out of things to say!
To expand the client's social media reach, we came up with a curated list of relevant local and industry hashtags to use with their Instagram posts.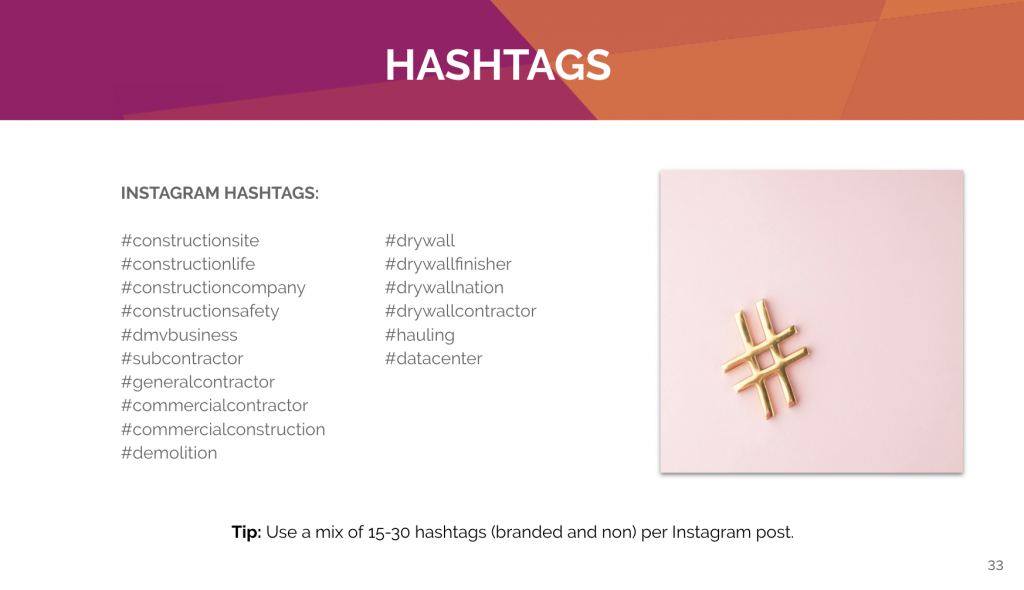 What the client said:
"I was really impressed with what you put together and I learned a lot. These additional documents are excellent too. I have really appreciated Amanda's understanding of the company and our specific needs…I plan to give Nick (owner) the update about how successful the meeting was and show him the quality of the presentation/calendar, samples posts, etc." – Kate Dugan, Rock Spring Contracting
Does you business sound like a good fit for our Social Media Strategy service? Schedule your free consultation with us.